0
My reminiscences about İlyas Malayev, the uzbek artisan – master
AZƏRBAYCAN MİLLİ KONSERVATORİYASI
"KONSERVATORİYA" № 2, 2016
Doctor of Art Study,
Professor of Azerbaijan National Conservatorie,
7 Alasgar Alakbarov,Yasamal District Baku,
E-mail:a.najafzade@yahoo.com
UDC 78.071.22   
My reminiscences about İlyas Malayev, the uzbek artisan – master
Summary: The article is about friendship of  Ilyas Malayev, the Uzbek master with the author, his concerts held in Baku and Dashkand cities. Ilyas Malayev was many-branched master: poet, Ghazalkhan (one who writes ghazals), composer, singer, artist of recitation. Thanks to Ilyas Malayev, the genre of meykhana (Azerbaijan folk verse, usually humorous and topical, sung in a lively manner) – improvisation was introduced on the stage in Dashkand city – abroad for the first time in the performance by the deceased Nizami Ramzi.
Key words: poetry, folklore, meykhana, Ilyas Malayev, Dashkand, Baku
Sometimes they say that there were few men of arts who fought against unjustness in the formation we lived and wished based on total exploitation, common dependence and lie and called socialism shamelessly, especially in the last decades of the soviet space. One of those masters was Ilyas Malayev (1936-2008), poet, composer, instrumental player, teacher, singer who lived and created in Uzbekistan.
Ilyas Malayev used to criticize social ugliness very seriously, sometimes in humor and joke, compose his verses and present to his readers, listeners. He protested unjustness in the country in his satirical couplets.
Art lovers have known this name for a long time. He was going to write and create a lot, but at his 72 age Ilyas Malayev passed away. Ilyas aka[1] was always dissatisfied with something, somebody. He used to laugh and make people laugh. His care and passion for justice were hidden behind this laugh.
Ilyas Malayev used to write verses extempore and write his feelings on sheets of paper, he wouldn't think for months, for years because he was a natural poet. He had a ready wit and rich vocabulary. He murmured with poetry and music. Ilyas Malayev, the Honoured Artist of Uzbekistan would not only criticise the negative features of the society, he would appeal to goodness, cleanness, frankness as well. He would glorify beauties in his brilliant works. Works by Ilyas Malayev used to be sounded and played in the best palaces of culture, on radio and TV. His concerts were visited not by accidental people, but intellectual persons. They were eager to listen to that courageous master who was a singer with poetical inspiration.
I asked Ilyas aka three requests: to hold concert in Baku, custom, tradition  in Azerbaijan State Philharmonic society, to take part in my younger son's little wedding (sunnat) and to manage the wedding of Mirahmad Kavlashev, my Uzbek friend who was the son of poor family with whom I made aquantance while I served in the Army. He met each of my those three requests disinterestedly Ilyas Malayev and Mahabbat Shamayeva, his wife, the most popular artists in Uzbekistan too part as musicians in Chimkent, the remote village of Sayram district in Chimkent region of Kazakhstan unpaid. That time even richest persons could hardly invite them to their weddings. More than 30 years of period passed since that time. Two years ago I visited the wedding of the elder son of Mirahmad, who became a very rich businessman. All still talked about the wedding, which was managed by Ilyas Malayev and Mahabbat Shamayeva and confirmed that they had never seen such luxurious wedding.
It would be by the way to express my impressions about the consert which was held on December 24, 1991 in Azerbaijan State Philharmonic society. Sayyad Alizadeh, Parvana Muradova (younger sister of Rubaba Muradova, the People's artist) and Elkhan Shirinov sang in the first part of consert. The ensamble "Gunaydin" was accompanying them. And Hassan Jabrayilov, the famous comic artist was managing the concert. In the second part of the concert Ilyas Malayev and Sultanpasha Odayeva, the Honoured artist of Uzbekistan sang.
Sultanpasha Odayeva sang an Uzbek song – "Kashm kara, kara goz". Afterwards he continued his singing with the song "Alma pishganda galin". Hassan Jabrayilov, the compere – parodist invited Ilyas Malayev who was accompyining to the stage by the underous applause of spectators.
Additional explanation. The same time range of meetings was held in the country. Because of it holding of concerts were limited. Some spectators told me box-offices were often closed. When they were open spectators' asking about tickets were only answered: "There is no ticket. The concert was postponed or delayed". Some days before the concert we were informed by guidance of philharmonic that the concert was cancelled and postponed to another date. I told that we had invited two honored artists of Uzbekistan, they were already in Baku. How could we cancel the concert?
Then Ministry of Culture intervened in the affairs and agreed to hold than we expected. The next day Vilayat Baruni (1961-1990), the virtuoso guitarist called me up and asked if our concert was held. "Yes", I answered. Vilayat said: "Workers of the Philharmonic society told that today's concert was cancelled. I wished to meet, to kiss Ilyas muallim,[2] the great master, to shake his hands very much. What a pity!".
Though Vilayat lived too little he put traces in the souls of music lovers. He could play sitar very well too. It was a pity that as Ilyas muallim left for Dashkend the next day couldn't meet…
He greeted the audiance in Azerbaijan and told that was going to recite a verse before his singing. Ilyas Malayev was already a member of Uzbekistan writers' Union and author of a few poetic books. Firstly he began to recite under the nice verse the title "Azerbaijan-Uzbekistan".
Uzbek-Azeri nations have been brothers since the ancient times.
Their brows, eyes, beauties are like
Mir Alishir Navai and Nizami Ganjavi.
Became famous over the world with their poetry.
In the Big Honorary book have been written their names.
Azerbaijani Vagif and Firgati the son of Uzbek
Fuzuli of sweet tongue, Babur, of the poetat of his times.
One of them is the body, the second is the spirit of the gazal vocabulary
Image of Ashrafi is in the Azerbaijani book.
Beauty of Uzeyir bay is in the Uzbek song of flower.
Yunus Rajabi Baghban, Feydasufi Shashmakam,
Art of life together with their names,
Azerbaijani Bulbul is the heart flower of a lot.
The sweet language and state of our people will never die
Samad Vurgun is from this place, Gaphur Gulam is from that place,
Uzbek – Azer ziynati Out of two masters.
Samad Vurghun is from this place,
Gaphur Gulam is from that place.
Out of two masters Uzbek – Azer …
Uzbek Halima is a student in Baku,
Azeri trills are our comfort of heart,
Batir bay Kazim oghlu, Rashid bay Majid oghlu,
Uzbek Saadet, Azerbaijani Shovkat,
Mahabbat – Uzbek daughter, Nazakat – Azeri daughter.
One of them is politeness, the second is love of motherland.
My sister Zeynab Khanlar is with honey tongue and sugar lips,
I have never seen such beautiful charming girl,
Azeri  girl Elnara, who is her teacher? Herself,
Pleasure of her residence astonished us.
Shovkat, Alakbar's daughter is the embodiment of art
No doubt, Glorious of our stage is her fate
Azerbaijani Islam is the famous name in Dashkand
Mughams of "Rast", "Shur" in lutfi's sweet singing
Rashid, the singer is Hafiz of our times, I am fond of his voice.
His motherland is Azerbaijan but he is famous over the world
Uzbek – Azer arts became glorious and famous
They led to the world honour,
When congress is hold in Dashkand, holiday is in Baku
May friendship, palace become with Ilyas pure intention.
As the poem shows Ilyas Malayev comparatively describers in rhymes the names of genius poets, composers and singers of Azerbaijan and Uzbekistan coinciding them with each other…
The audience applauded this performance for a long time.
It is the turn of music had after I.Malayev played potpourris consisting of "Indian music" on the sitar sang the Azerbaijani people's song "Gozalim sansan". His next musical performance was a part from "Arshin mal alan", the operetta – by the genius Uzeyir Hajibayli (1885-1948). I.Malayev song the "Duet of Vali and Telli" ("Have you got money?") originally e.i. he sang by woman's voice in some moments.
After the applauds of the audience Ilyas muallim took the microphone and said, "Dear audience! There is a person who is my friend of childhood. I'll not tell you my friend's name. I ask that person to come on the stage under your applauds".
At this moment the floor was given to Elmira Rahimova, the Honored artist, (now People's artist) singer of Azerbaijan. She told, "Good evening, dear friends. Today I have come here not as a singer. We are friends with Ilyas Malayev, our families are friend. We have not met for a long time. I've come here to listen to him as a spectator. I beg your pardon as I'm not in artist clothes. My performance was not been planned beforehand in the concert. I would like to sing the song with Ilyas as a duet which we used to sing in our childhood"
Ilyas Malayev played the tar like the Indians and sang a song from Indian film with Elmira Rahimova as a duet. I , as an organolog scientist was very much surprised, because of Ilyas muallim "sounded" the tar, the ancient Azerbaijani instrument as an Indian one.
In the concert Sayyad Alizadeh performed the song "Afgan gozali" composed by Ilyas Malayev. By the way, this song was played by me on the clarinet which is kept in the Azerbaijani Radio. Thus the Azerbaijani made acquaintance with Ilyas Malayev's works for the first time in that concert, had a chance to listen to his poems, music, songs. Ilyas Malayev and Mahabbat Shamayeva included Azerbaijani songs to their reporter when they gave concerts in Uzbekistan and abroad. And it showed that they were active propagandists of our folk-lore and musical culture.
Now I'm going to inform you about another concert held in Dashkand, the capital of Uzbekistan. At the end of 1988 Ilyas Malayev called me up and told that there would be held a concert of music by the Eastern Peoples living in USSR in Dashkand, e.i. artists from the Caucuses – Azerbaijan, Georgia, Armenia, Central Asia – Turkmenistan, Uzbekistan, Tajikistan, Kirghizstan, Kazakhstan would perform on the same stage. Ilyas aka said, "We have got a little time, soon the posters are to be stuck up. Tell me the names of two singers whom you will invite from Azerbaijan. Take into consideration that the Azerbaijani from Uzbekistan must know them very well, a stream of audience must be to the concert".
I told Ilyas aka that of we could take Nizami Ramzi (1947-1997), the meykhanachi (improvisation) to Dashkend. No doubt, the concert hall would be full. I noted that Nizami Ramzi was not a singer, because Ilyas aka liked zilkhan[3] singers. I told him the names of Nizami Ramzi and Chimnaz Ashurova (she is a Jewish girl and lives in Israel now) on the telephone. I bought tickets on the plane for that date. Chimnaz used to take parts in the concerts, in various weddings and parties together with Nizami Ramzi at those days.
Ilyas aka himself met us at Dashkend airport and took us to "Uzbekistan" hotel. It was dawn of the day. After we had a rest for some hours we had to go to the immense Palace named "Friendship of Peoples". At about 11.00 Ilyas aka called me up and asked, "Dear Abbas, are you ready?" I answered, "Yes, we are expecting for you".
When Ilyas aka entered the hotel he seemed very tired. He told, "Nizami, don't meet anybody, as soon as you leave the hotel, take my car quickly, we are late for the rehearsal". When we were coming up to Ilyas aka's car we saw a man with a sharp knife in his hand approaching us. He told Ilyas aka, "Ilyas aka, thank you very much. You took such a great man to Dashkand. We could never take him (he was meaning Nizami Ramzi) to Uzbekistan".
Then that man and his fellows brought a ram nearby of Ilyas aka's car. On the feet of Nizami the ram was cut as a sacrifice[4] and they thanked Ilyas aka once more. I must note that such cutting sacrifices were repeated for several times in those days when we stayed in Dashkand.
We began our rehearsal according to the program. Opening started with the performance of the group of Uzbekistan dance. Then an Uzbek singer was to sing. Afterwards artists of other republics were to perform. In the process of the rehearsal Uzbek artists would complete it. And before them we – the Azerbaijani were to perform for 20 minutes. The table was fulfilling seriously.
Chimnaz Ashurova was performing the song "Garabagh" composed by Bahram Nasibov (1924-1998) and passing from refrain to "Garabagh shikastasy" was completing her, performance by this rhythmic mugham. Our Dashkand tour took place at the beginning of December in 1988. That was the period when Azerbaijani from Garabagh, the inseparable part of our motherland and from Armenia were derived out of their ancient lands, about 20 percent of the territory in our Republic were occupied. And sitting meetings which lasted all days in Baku, the soviet regime was just destroyed.
Ilyas aka taking into consideration that the political situation in the country was tense, asked Chimnaz to sing another song.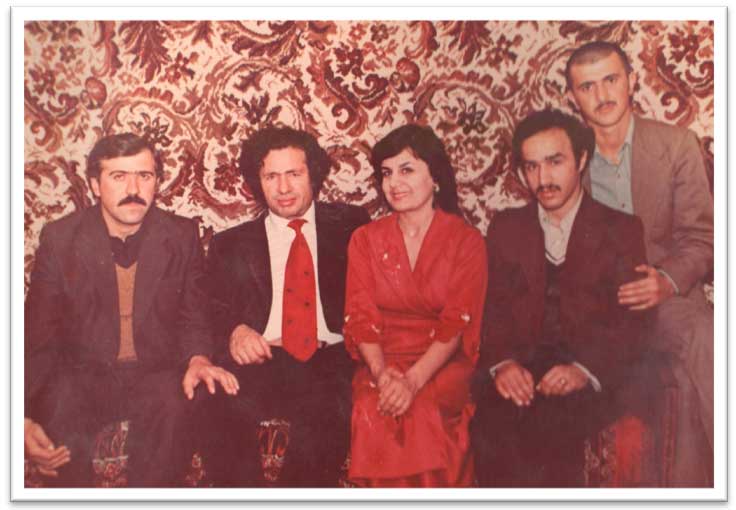 The left: Rahman Nurmammadoglu, Ilyas Malayev, Mahabbat Şamayeva,
Abbasgulu Najafzada and Ilham Abdullayev
But she refused Ilyas aka's offer and insisted on it and said, "If you don't want I will not sing, I'm not Azerbaijani, I'm Jewish girl, I have been singing this song since my childhood". At this moment Mahabbat Shamayeva, the wife of Ilyas aka interfere, and saying that "One shouldn't trouble the guests" embraced her husband and whispered something to his ear. Afterwards we knew that Mahabbat khanum had asked to him if he was aware of the texts of the other peoples' songs which would be sung in the languages of them. Let her sing the song she was going to.
Mahabbat khanum is a very favorite artist over the country and had authorities. And Ilyas aka loved her very much too. Mahabbat khanum would tell us in a joke, "Ilyas is my teacher, my husband and my driver as well". The matter of fact was that Ilyas aka as if breathed through Mahabbat khanum and he never rejected her request. And that time he obeyed her.
Nizami Ramzi came out on the stage and signed to me to do improvisation on the mugham "Shur" through "re". He recited a gazal under the mugham and then choosing e rhyme declared several couplets. The artistic head and announcer of the ensemble which consisted of mostly Uzbek musicians was Ilyas Malayev, the  tar – player. There were three Azerbaijani musicians in the ensemble: me (with different instruments), Rahman Bakhtiyarov (harmony) and Ilham Abdullayev (though he was a saz and harmony player, he was playing gosha naghara in the ensemble).
Nizami Ramzi sang the song "Lover and beloved" composed by himself with Chimnaz Ashurova in the form of duet. I noted that Ilyas aka looked at his watch and said worriedly, "The songs took 15 minutes, but you are to perform 20 minutes at least. I answered that, Ilyas aka, don't trouble, Nizami Ramzi is able to recite meykhana during 15 hours if it will be necessary. This is not a song. As it is a rehearsal, he recited only several couplets".
Very comfortable conditions for musicians' rest were organized. I thought that we had time even to fall asleep a while, as we were to perform at the end of the concert. Before the concert started Ilyas aka came in to our room and said, "We corrected and changed the program. You will have a performance secondly – after inauguration". As a rule in such concerts poor performances are given at the beginning of concerts. From this point of view we were considered poor and that's why replaced from the end to the beginning. Ilyas aka understood what I was thinking and said, "It is not so as you think. I am just not satisfied with 15 minutes performance".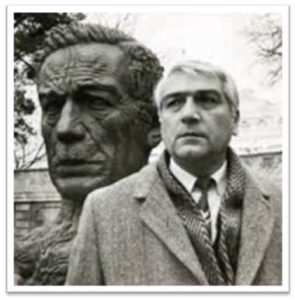 Well, the concert began. After Uzbek musicians left the stage, and when the announcer declared, "And now I invite the Azerbaijani musicians". They were applauded so that, Ilyas aka got frightened. Then because of joy his eyes filled with tears. It was known that the majority of the audience were Azerbaijani". After Chimnaz Ashurova's "Garabagh composition" who performed firstly the audience shouting "Garabagh" on their feet applauded the musicians and a lot of flowers were thrown on the stage.
When it was Nizami Ramzi's turn to perform, to say the truth the words fail me to describe the events happened in the hall. I remember Nizami Ramzi's concert at Azerbaijan State Philharmonic society too. I was witness that as there was no seat in the hall some audience were sitting crossing their legs on the stage. I remember the concerts hall in the Republic Palace (now Heydar Aliyev Palace) during three days. But Dahskand concerts was grandiose.
As we present money gifts, deliver tips to musicians at the weddings, parties the Uzbeks do so as well. But it was for the first time that I saw the floor of the stage covered by money as if it was alive carpet with ornaments. Every meaningful word told out from the bosom by Ramzi the audience replied it by raining of money from all sides.
We finished our performance when our spared time was over. But the audience with applandes were holding us on the stage. Though the announcer declared the performance of the Gazakhs, they made us to return to the stage. After the announcer declared that Nizami Ramzi had a performance at other place too, the audience kept silence. The Azerbaijani audience were leaving the concert hall.
Ilyas aka came to the wardrobe of the musicians and embracing Nizami kissed him, "Well done, I didn't expect from you". Then he touched by back and said, "Abbasgulu, I'm grateful to you for all".
At that palace we had to hold concerts another two days. The first day passed so. After the concert Vagif Valiyev (1940-1993), a person of large authority in Dashkand businessman and methane invited us to his house a sacrifice was delivered (gurban was cut) in connection of Nizami Ramzi's arrival here too. Musical party was held up to the early morning.
Additional explanation. Haji Vaqif Valiyev was appointed Head of the Exntive power in this post and was beloved by the people. He was killed by shooting in his study on 24 June, 1993 as a result of anarchy, chaos in the country. Ilyas aka was a witness (evident) of honour and respect of Nizami Ramzi at Vagif  and sure of his great love. Abbas Abbasov who became the first vice chairman of Azerbaijan Prime Minster was also there. He managed the party in three (Azer­baijani, Uzbek and Russian) languages very well.
Those years Abbas muallim was head of Poultry Commetee in Uzbekistan SSR.
Ilyas aka thought that because of Nizami Ramzi had a strong memory he cold bare those couplets in his mind and recked them when it was necessary. I told him that Nizami recited all his meykhana exprontbly. If he is going to be sure of it let him recite one of his gazzels. And I told Nizami to use the last distichs as a rhyme Ilyas aka recited the gazzel dedicated to Mahabbat, his wife. The last line was completed so:
Eng ali fazilat egasi bolgani shul kim?
Ilyasga khatun, Nargizege ane Mahabbat.
Translation:
Who is the owner of the highest
It is Mahabbat – Ilyas' lady (khanum) and Nargiz's mother.
I must note that "Khatun", the Uzbek word means "khanum" (lady). And Nargiz was Ilyas's daughter. The content of the line meant: "Khanum for Ilyas, mother for Nargiz and other children – Mahabbat".
Nizami used to many words appropriate to (parvane, afsane, durdane, bir dane, merdane, canane, shane, zamane, subhane, imkane, zindane, xane, heyrane, gurbane Gurane, bigane, her yane, gazakhane, nalane, Uzbekistane, gullu-gulustane, mehmane, meydane, meykhane, shahname, etc.) that Ilyas muallim was shokked. He stood up and kissing Nizami said, "All peoples from the Central Asia love us – me and Mahabbat Shamayeva very much. We are to sing an Azerbaijani song at last night of every year, e.i. at new Year party by all means. Sometimes we sing your songs as a duet and sometimes separately. And the Uzbeks live Azerbaijani songs very much. I and Mahabbat have a special role in emerging (formation) this love too. Each song sung by us is included to repertoire of our singers along every year, becomes an ornament of weddings concert halls. That is why a singer in Uzbekistan who is not able to thing an Azerbaijani song is not beloved as a resalt. As I noted we love your people very much. But after I saw Nizami. I thought that as the Great Gold loves this people very much, he gave such uncial gift namely to the Azerbaijani.
On the second day of the concert Ilyas aka declared that the Azerbaijani musicians well before the last as he planned beforehand, e.i. the Uzbek musicians opened the concert (performance) and closed – end up.
Thus as a result of Dashkand concert namely Ilyas Malayev presented meykhana one of the genres of the Azerbaijani folk-lore abroad for the first time at the stage in the immense Palace named a "Friendship of Peoples" by Nizami Ramzi.
доктор искусствоведения, профессор АНК 
ИЛЬЯС МАЛАЕВ МНОГО­СТО­РОННИЙ ДЕЯ­ТЕЛЬ ИСКУССТВА
Резюме
В статье говорится об узбекском музыканте Ильясе Малаева и кон­церте данным им в городе Баку. Ильяс Малаев – много­сто­ронний дея­тель искусства. Он, будучи «устад»ом в Узбекистане (профессионалом искусства речи), был из­вестен как поэт, «гезелхан», композитор, инструменталист, певец и актёр.
Ключевые слова: поэзия, фольклор, Ильяс Малаев, мейхана, Ташкент, Баку
 Sənətşünaslıq üzrə elmlər doktoru, AMK-nın professoru
ÖZBƏK SƏNƏTKARI İLYAS MALAYEV BARƏDƏ XATİRƏLƏRİM
Xülasə
Məqalədə özbək musiqiçisi İlyas Malayevin Bakıda verdiyi konsertdən söz açılır. İlyas Malayev çoxşaxəli sənətkardır: şair, qəzəlxan, bəstəkar, müğənni, aktyor, müəllim, müxtəlif alətlərin instrumental ifaçısı, bədii qiraət ustası. İlyas Malayevin sayəsində Azərbaycan folklorunun qollarından biri olan meyxana janrı Nizami Rəmzinin timsalında ilk dəfə xarici ölkədə, Daşkənd şəhərində səhnəyə çıxarılıb.
Açar sözlər: poeziya, folklor, meyxana, İlyas Malayev, Daşkənd, Bakı
[1] Aka – big, great, grown-up, adult. It is a respectful addressing in Uzbekistan.
[2] Muallim – teacher. It was a respectful addressing in Azerbaijan
[3] Zikhan (singer) who as a rule mostly sings in a high voice
[4] To cut a sacrifice (as a rule a ram, a sheerer)
Mövzuya uyğun